Mr Jiangyu Li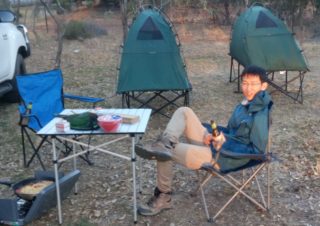 LOCATION:  314.
EMAIL:  jiangyu.li@postgrad.curtin.edu.au
RESEACRHGATE:  www.researchgate.net/profile/Jiangyu_Li5
Brief Summary
My name is Jiangyu Li. I'm currently a Ph.D. student specializing in structural geology and thermochronology at Curtin University under Prof. Li's instruction and Dr. Amaury  Pourteau's and Assoc. Prof. Fred Jourdan's co-supervision.
I received a bachelor degree of mineral exploration at the Central South University in China from 2009 to 2013. Following that, I completed my master thesis at the Chinese Academy of Geological Sciences (China) from in 2016. During my master study, I studied a Mesozoic sedimentary basin in Shanxi Province, China. My responsibilities included identify Mesozoic orogenesis effects recorded in the Jurassic basin deposited east of Ordos Block. I applied balance cross-section as well as kinematic analysis of fault slip data to study its various stages of deformation and the tectonic evolution history.
During my master study, I also studied regional magmatism and thermal evolution history in West Junggar, Xinjiang. I applied a biotite Ar-Ar thermochronological method as well as analysing zircon U-Pb, biotite Ar-Ar, K-feldspar Ar-Ar, and AFT data to reconstruct the thermal evolution, from magma intrusion to later uplifting and exhumation in West Junggar.
In December 2016, I joined Professor Zheng-Xiang Li's project on "Geo- and Thermo-chronology of Precambrian Terranes in North Queensland, Australia: Constraining the Configuration and Evolution of Precambrian Supercontinents Nuna and Rodinia". The project aims at reconstructing the tectonic history of the eastern margin of the North Australian Craton by using multi-thermal dating method to tackle the thermal histories of various cratonic blocks along an E-W corridor across northern Queensland. I also aim to uncover the timing and kinematics of terrane accretion, and post-accretion, tectonic-thermal events in this region.
Memberships, Awards and Training
2013 Honor graduate of Central South University (China)
2015 Merit student of Chinese Academy of Geological Sciences
2016 Cheng Yuqi honor graduate student award
Research Interests
My interests include plate tectonics, thermochronology history reconstruction, and basin analysis. Currently I'm studying the thermal evolution of North Queensland by applying Ar-Ar dating, along a corridor across Mt Isa and the Georgetown inlier, to identify the accretion and exhumation history of different terranes in North Queensland from 2.0 Ga to 1.6 Ga.
Specialty Areas
Sedimentary basin analysis
Thermochronology
Publications
2016
Li, J., Chen, X., Wang, Z., Chen, W., Li, C. and Huang, P., 2016. Late Palaeozoic mineralization and tectonic evolution of the West Junggar metallogenic belt, Central Asia: constraints from Re–Os and 40Ar/39Ar geochronology. International Geology Review, pp.1-23. doi: 10.1080/00206814.2016.1205525
2015
Shi, W., Cen, M., Chen, L., Wang, Y., Chen, X., Li, J. and Chen, P., 2015. Evolution of the late Cenozoic tectonic stress regime in the Shanxi Rift, central North China Plate inferred from new fault kinematic analysis. Journal of Asian Earth Sciences, 114, pp.54-72. doi: 10.1016/j.jseaes.2015.04.044