Rodinia 2017: Conference and field trip announced! QLD, Australia in June 2017

Rodinia 2017: Supercontinent Cycles and Global Geodynamics is a continuation of the Rodinia meeting series, which have been held every 4–5 years. It brings together global experts and young researchers from a broad range of geoscience disciplines to study supercontinent histories and related geodynamic processes.
For more information please read the first circular. General inquiries about the conference or field trip should be directed to:
Prof. Peter Betts
Email: Peter.Betts@monash.edu
Tel: +61 3 990 54150
Hawaii Field Symposium Kailua-Kona, 9-13 December 2015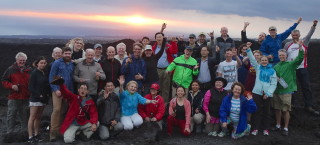 The first field symposium of Project 648 was successfully (and also enjoyably) held on the Big Island of Hawaii, one of the world's most active volcanoes, near the center of the Pacific Plate and atop one of the two large low shearwave-velocity provinces (LLSVPs, or superplumes) in the Earth's mantle.
News
IGCP 648 sponsored session on "Supercontinent Cycles and Global Geodynamics" at the Australian Earth Sciences Convention (AESC) 2016 was a success.

A project-specific session, convened by IGCP 648 project co-leaders Bruce Eglington and Zheng-Xiang Li, was held during the 2016 GAC-MAC meeting at Whitehorse, Yukon, Canada.

A CCFS-sponsored short course on the global climatic phenomenon known as Snowball Earth will be held at Curtin University on 15 July, 2016.
Upcoming events
Beijing, China, 18–20 August, 2016

Convened by IGCP 648, Cape Town, South Africa, 27 Aug–4 Sept, 2016.
Contact
Dr Ross Mitchell
Project Secretary, IGCP 648
Email: Ross.Mitchell@curtin.edu.au
Phone: +61 8 9266 2968
Fax: +61 8 9266 3153
Postal address
Department of Applied Geology
Curtin University
GPO Box U1987
Perth WA 6845
Australia