In work recently published in National Science Review EDRG members used sophisticated geodynamic modelling to examine the factors controlling the alternative ways by which supercontinents are formed, and predict how the next supercontinent will likely form.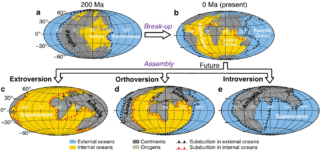 Changes in Earth's surface landscape from supercontinent Pangea and superocean Panthalassa 200 million years ago (a) to the present-day configuration (b), and three possible ways of forming the next supercontinent Amasia (c-e).
A recent study led by EDRG member, Yebo Liu, attempted to discover if a clear spatiotemporal correlation between different types of metamorphism and active convergent plate margins holds true back to 2 billion years ago. The study has been published in Geology.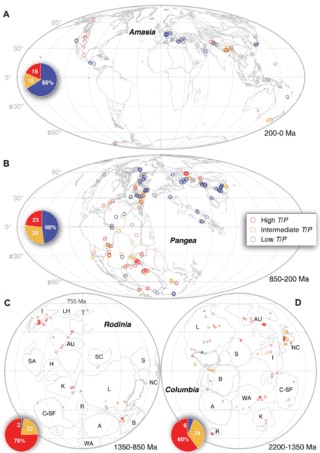 Palaeogeographic maps of metamorphic occurnces.
Important upcoming events
The 2023 Australian Earth Sciences Convention will be held in the Perth Convention and Exhibition Centre, June 27-30, during which a special symposium will take place.

This special symposium, convened by Zheng-Xiang Li, Maria Seton, & Andrew Roberts, is designed to take advantage of involvement by Australian researchers in the latest geoscience revolution, to take stock of where we are in answering numerous blue-sky questions, and to develop new ideas and collaborations for the coming decades.

Please see the many session themes and information on how to participate, here.

The next seminar of series 5 will be held on Thursday 10th November 2022 at 12:00 UTC with Dr Anthony Lagain, from Curtin University, Australia, presenting "90 million craters reveal the ejection site of martian meteorites".

Please email us (IGCP648.vss@curtin.edu.au) if you wish to sign up and participate in our future seminar series. Feel free to also email us with any comments, recommendations, or future speaker requests.

View more information about the seminar series and watch some of the recorded previous seminars.
Community Feature Article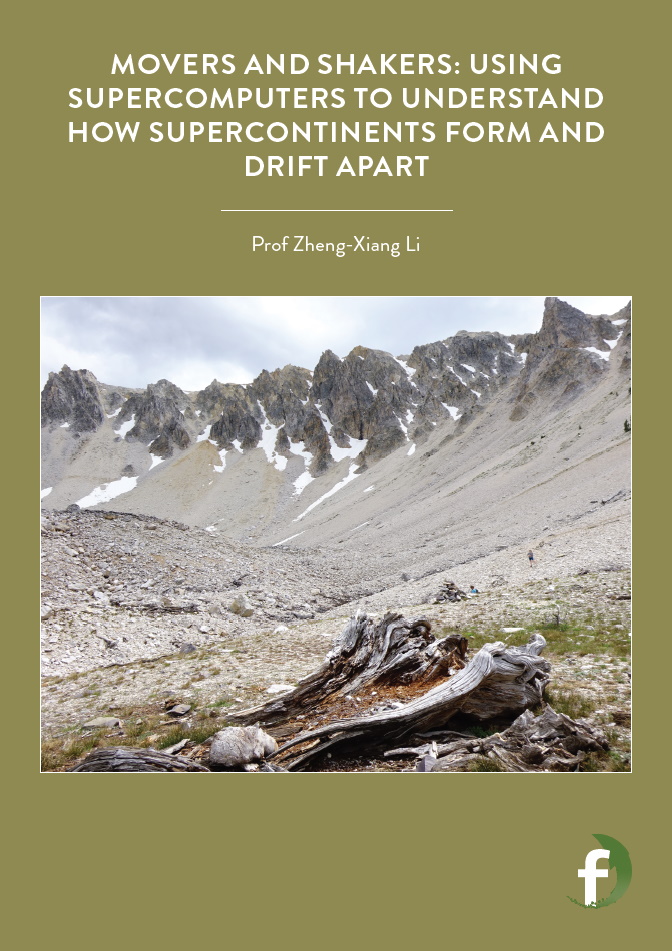 Prof. Li was recently featured in an article discussing the work that we do in the Earth Dynamics Research Group. The article was produced by Futurum, a magazine and online platform aimed at inspiring young people to follow a career in science, technology, engineering, and mathematics (STEM).
The article also includes a link to an activity sheet for students and teachers. For more information, teaching resources, and course and career guides, see www.futurumcareers.com.