Insights into the Tibetan Plateau
The occurrence of the magnitude 7.9M Wenchuan 
earthquake on 12 May 2008, at the eastern 
foothill of the Tibetan Plateau, surprised many in the earthquake community. More intriguingly, 
the large number of aftershocks related to that 
earthquake 
almost exclusively occurred 
northeast of the main shock alon
g the Longmenshan 
F
a
ult
Zone (LFZ), a phenomena that current
models have trouble explaining.
In a recently published article we combine gravity modelling with a synthesis of an 
array of geological and geophysical observations to establish a regional hypothesis featuring 
(1) contrasting b
ehaviors between the southern and central
–
northern LFZ, with the southern 
LFZ being a crustal
–
scale thrust zone, whereas the central
–
northern LFZ being a lithospheric
–
scale fault zone with strong episodic dextral transpressional motions; (2) such contrasti
ng
behaviors are driven by differential motions of two crustal blocks from the western highland 
(the Tibetan Plateau), pushed by India's northward motion; (3) as a consequence, the LFZ features a twisted fault plane with the Wenchuan earthquake being located at the junction of the LFZ and the bounding fault between the two crustal blocks to the west; and (4) the LFZ has been behaving like this since around 40 Myr ago and it became an external boundary for a northeasterly-directed extrusion-style growth of the Tibetan Plateau.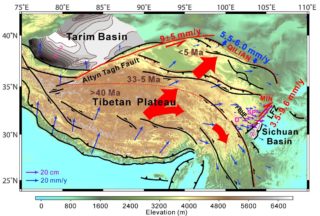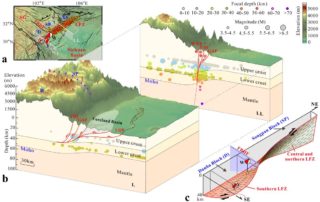 Contact person: Prof. Zheng-Xiang Li, Earth Dynamics Research Group, Curtin University.
Relevant publication:
Xiaodian Jiang, Zheng-Xiang Li, Chaoyang Li, Wei Gong. A gravity study of the Longmenshan Fault Zone: New insights into the nature and evolution of the fault zone and extrusion‐style growth of the Tibetan Plateau since 40Ma. Tectonics, Volume 38, pages 176– 189 (2019). doi: 10.1029/2018TC005272