Best student geologic map at GSA 2019
PhD student Daniel Brennan was recently awarded the best student geologic map at the 2019 Geological Society of America's Annual meeting in Phoenix, Arizona. The competition, which highlights student research from around the world that utilizes field mapping and the creation of geologic maps, was hosted by the U.S. Geological Survey, in collaboration with AGI, GSA, GSA Foundation, Association of American State Geologists, American Institute of Professional Geologists, and the Journal of Maps.
Participation was open to all students, at any level of their academic career (Bachelor, Master, or PhD), who had created a geologic map through their recent and substantial field work. The top three student maps were selected for recognition and awards at a special judging session at the GSA Annual Meeting. An official announcement will be made soon on the GSA website, GSA Today and GSA Connection, AGI Spectrum, and the USGS website.
Congratulations Dan on the well deserved acknowledgment!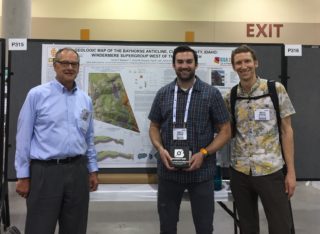 Daniel's work, undertaken during his Master degree at Idaho State University, investigated the Bayhorse Anticline in Custer County, central Idaho. The mapping, detrital zircon analysis and dating of crosscutting igneous rocks led him to suggest that the allegedly Ordovician stratigraphic section is actually Neoproterozoic. This means that instead of these rocks being deposited in a passive margin setting, these rocks were deposited during the active breakup of the supercontinent Rodinia.
Previously, Neoproterozoic rocks were generally thought to be missing in central Idaho across a feature known as the Lemhi arch. Thus, this new finding holds interesting implications for the timing, geometry, and structure of Rodinian rifting along the western Laurentian margin.