Daniel Brennan awarded best presentation at GESSS-WA
On Thursday 25th November 2021, Curtin University held the 2021 GESSS-WA (GSA – Earth Science Student Symposium). The event was organised by a joint Curtin–UWA–Murdoch HDR committee and was a great success.
The symposium featured high-quality student research presentations and an early career panel session, followed by a networking sundowner. A total of 19 oral presentations and 12 posters were exhibited. Curtin EPS HDR students took home four of the six best presentation prizes including EDRG's own Daniel Brennan.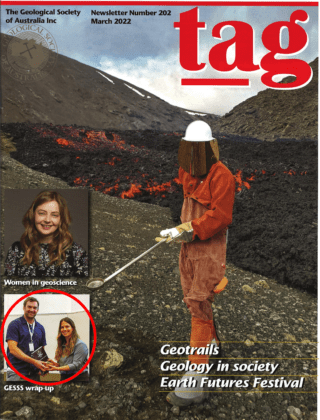 As an added acclaim, a photo of Dan receiving his award from fellow Curtin HDR student, and Organising Committee Chair, Ms Raiza R. Quintero appeared on the March 2022 cover of The Australian Geologist (TAG), the Geological Society of Australia's popular quarterly magazine.
Congratulations Dan!