Prof. Dietmar Müller awarded the Jaeger Medal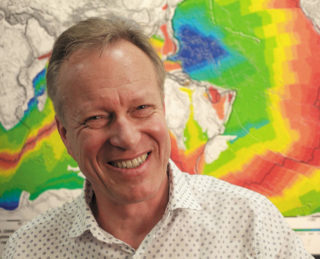 The Australian Academy of Science recently acknowledged the outstanding contributions of 20 of Australia's leading scientists and future superstars. The list of recipients of the prestigious 2019 honorary awards included IGCP648 member, and lead of the EarthByte Group at the University of Sydney, Professor Dietmar Müller.
Prof. Müller was awarded the Jaeger Medal for his significant, and ongoing, contributions to Australian Earth Science. His work with the EarthByte group has included the development of a deep-time global sea level model and combined geodynamic, tectonic and surface topography models unravelling the origins and history of continental landscapes, environments and sedimentary basins. He also showed how the uplift of the eastern Australian highlands is dominated by dynamic topography due to plate–mantle interaction.
Congratulations Prof. Müller!
---
Read the Australian Academy of Science Announcement
See the list of 2019 honorific award recipients
Read the University of Sydney News article