In a new EDRG-led Earth-Science Reviews paper, we publish the first data-rich full-plate global evolution history for the 2000–540 Ma interval, and utilise palaeomagnetic true polar wander (TPW) and global plume records to determine likely palaeolongitude for past reconstructions and the dynamic evolution of first-order mantle structures.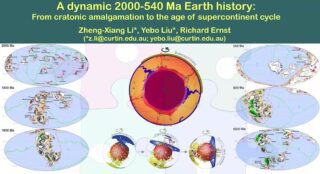 Geodynamic modelling performed by EDRG has shown that the lifespan of the supercontinents has been decreasing due to the weakening of the orogens formed during the assembly phase. The work published in Science Bulletin suggests that this is likely caused by Earth's secular cooling.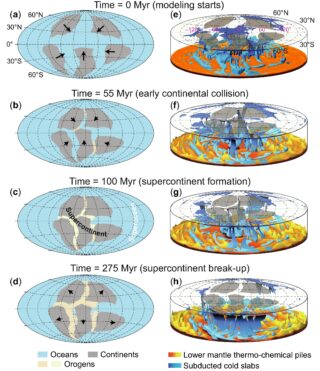 Evolutionary results for test case 1 at four critical time points. (a)–(d) Continental drift and orogenesis during the supercontinent assembly and its eventual break-up. The orogens are converted to new ocean when materials at 20-km depth are replaced by upwelling mantle during continental break-up. Black arrows in (a), (b), and (d) denote the motion directions of the continents. (e)–(h) The evolving mantle structure, including cold downwellings (dark blue to blue) and the undulating lower mantle thermo-chemical layer (red to yellow).
Important upcoming events
This will be a joint conference of the Eighth International Dyke Conference (IDC8), the Large Igneous Provinces conference series, and the Rodinia conference series.

It will be held in the Cadi Ayyad University Conferences Center in Marrakech, Morocco.

The meeting will be held between 5-9 June, 2023, with both pre-, mid-, and post-conference field trips available.

Abstract and on-line registration opens:15 Feb. 2023
More information and registration can be found at marrakech.sciencesconf.org.

Information is also contained in the First Circular.

The 2023 Australian Earth Sciences Convention will be held in the Perth Convention and Exhibition Centre, June 27-30, during which a special symposium will take place.

This special symposium, convened by Zheng-Xiang Li, Maria Seton, & Andrew Roberts, is designed to take advantage of involvement by Australian researchers in the latest geoscience revolution, to take stock of where we are in answering numerous blue-sky questions, and to develop new ideas and collaborations for the coming decades.

Please see the many session themes and information on how to participate, here.

The final seminar of series 5 was held on Thursday 22nd December 2022.

The next seminar series is still to be announced.

Please email us (IGCP648.vss@curtin.edu.au) if you wish to sign up and participate in our future seminar series. Feel free to also email us with any comments, recommendations, or future speaker requests.

View more information about the seminar series and watch some of the recorded previous seminars.
Community Feature Article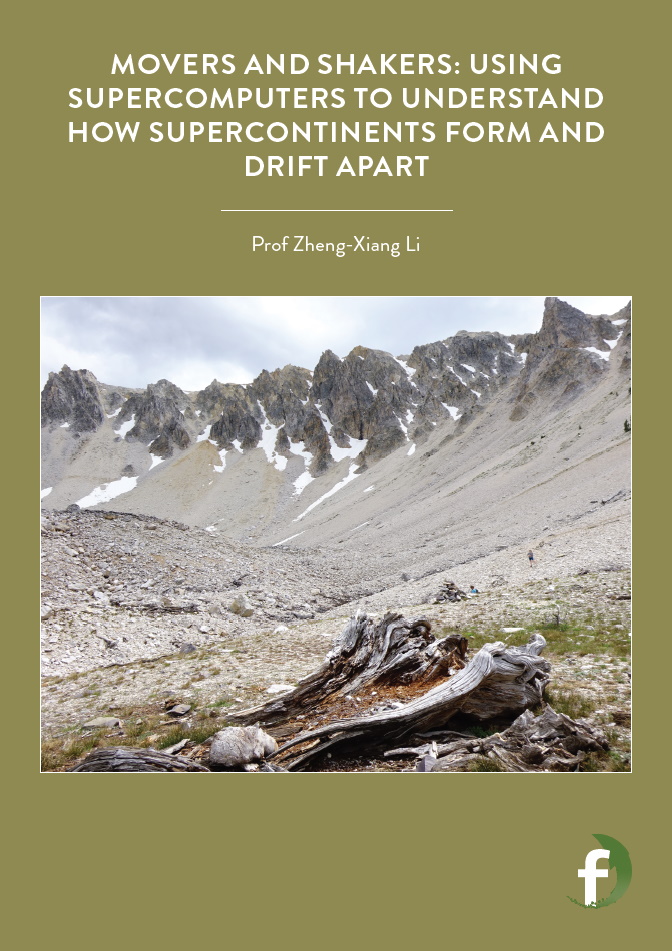 Prof. Li was recently featured in an article discussing the work that we do in the Earth Dynamics Research Group. The article was produced by Futurum, a magazine and online platform aimed at inspiring young people to follow a career in science, technology, engineering, and mathematics (STEM).
The article also includes a link to an activity sheet for students and teachers. For more information, teaching resources, and course and career guides, see www.futurumcareers.com.